The Melissa Etheridge PC Collection CD Compilation
IS NOW AVAILABLE FOR TRADE and MORE DESKTOPS & SCREENSAVERS HAVE BEEN ADDED!!!!!
!!!Starting January 3rd ... start searching your pc compilation discs, as an EASTER EGG has been added ... HAPPY HUNTING!!!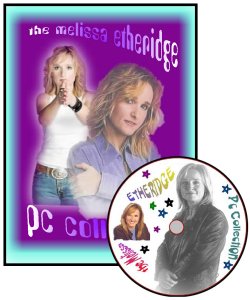 CD'S CONTENTS INCLUDE
Set of 20 "Full CD" skins (supporting program included)

Set of 10 (Now 11!) "Real Jukebox" skins (supporting program included - demo version only)

9 (Now 12!) Screensavers w/background music (plus standalone screensaver files)

8 (Now 27!) Windows Desktop Wallpapers (in both 800x600 and 1024x768 display resolutions - and NOW MORE layout types)

BONUS - 11 (Now 13!) useful programs (some fully functionable, some 30 day trial/demo versions)


ABOUT THIS CD

Capacity = 123.2mb (Now 259.12mb)

Autorun enhanced (windows explorer browse cd feature optionable)

Readable (playable) on all multiread/multiplay CD rom drives


WHAT'S INCLUDED

Slimline CD jewel case

Front cover CD insert arts (see graphic content at top of page)

CD face label, printed on high gloss full coverage label (see graphic content at top of page)

Installation instruction sheet


HERE'S HOW TO GET A COPY OF THE PC COMPILATION CD
REQUESTS FOR THIS CD REQUIRE A MELISSA TRADE OR 2 BLANK CDR'S <and> return postage of $2.40 US ($5.00 OVERSEAS)
Use the fill-in form below by cut/paste email to mysticmel2001@comcast.net (use PC Compilation as subject line)

Fill in ALL blank spaces on order form

We will send you an email to confirm your request and to let you know where to mail trades

Please allow 1-2 weeks for delivery AFTER we receive your blanks (or Melissa related trade item)


================================================================================================
EMAIL THIS PORTION WITH YOUR EMAIL REQUEST
*USE THE CUT TEXT FEATURE AND PASTE INTO AN EMAIL*


NAME: ____________________________________
EMAIL ADDRESS: ______________________   SECONDARY EMAIL ADDRESS: _________________________
MAILING ADDRESS: ________________  CITY: ____________________  STATE: ___________ 
ZIP: ________  COUNTRY: ___________
PLEASE INDICATE HOW MANY COPIES OF THE PC COMPILATION CD YOU WANT: 
I WILL BE SENDING TO BLANK CDR'S AS A TRADE FOR THIS CD:  CHECK HERE [ ]
I HAVE A MELISSA RELATED ITEM TO TRADE (PLEASE INDICATE WHAT YOU HAVE HERE): ______________________ 
================================================================================================

ATTENTION: This is a PC multimedia disc. It's intended use is only for the PC and not any other audio/visual device. The functionability of this CD has been tested on several computer systems running the Windows 9x O/S and have all tested successfully. This compilation disc was created with the autorun option, if your system CD rom default settings have been altered the autorun may not work properly ... in this case, you can either enable the 'auto insertion' option on the rom drive or run the disc from your explorer window (see installation sheet acompanied by CD). If for some reason the CD doesn't work in your computer system - please drop me an email and I will gladly suggest steps to take or we will honor an exchange/refund (up to 14 days).

updated on july 30, 2005